PRODUCTS DIMENSION-Frame Material: TR90 and rubber, Lens width: 2 1/16"(53mm), Frame width: 5 5/16"(135mm), Lens height: 1 3/16"(30mm), Frame height: 1 3/8"(35mm), Bridge (DBL): 1/2"(13mm), Temple length: 5 1/2"(140mm), Spring hinge: No, Lenses: Aspheric, Head size: Medium, Rx-able frame
EYEKEPPER COMPUTER EYEGLASSES-Obliterate Blue Light with our patented computer glasses that will keep your eyes safe from all harmful blue light, designed for anyone using an electronic device such as computers, T.V.'s or phones.This meets the requirements of the U.S. FDA, and exceeds European Union requirements
EYEKEPPER COMPUTER GMAING READING GLASSES-Included a microfiber cloth and hard foldable metal case, Superior Blue Light Blocking Computer Glasses that will reduce eye strain when working on a computer, tablet, phone or television.Excellent for Relieving Visual Discomfort and fatigue associated with using a computer for long periods of time
QUALITY FRAME-FDA Registered Gamer Glasses and Computer Eyewear, Accord with ANSI Z80.3-2010, Accord with BS EN ISO 12312-1:2013 and EN14139:2010, Accord with AS/NZS 1067:2009, Quality frame, lenses and have spring-loaded hinges, No Longer spend nights lying awake after using a Computer for long periods of time

Anti-UV.
Anti-Fog.
Reduced glare.
Massive reduction of blue light.
Get maximum protection with ourpatented, multi layer coating designed specifically to reduce glare, reflect blue light away from the user and relieve long term eye strain caused by excess electronic device use.
Whether you are looking for computer glasses for the office or a late night Netflix binge. Eyekepper computer glasses will give you the premium protection you are looking for Blue light blocking.
Studies Confirming the Importance of Blue Light Technology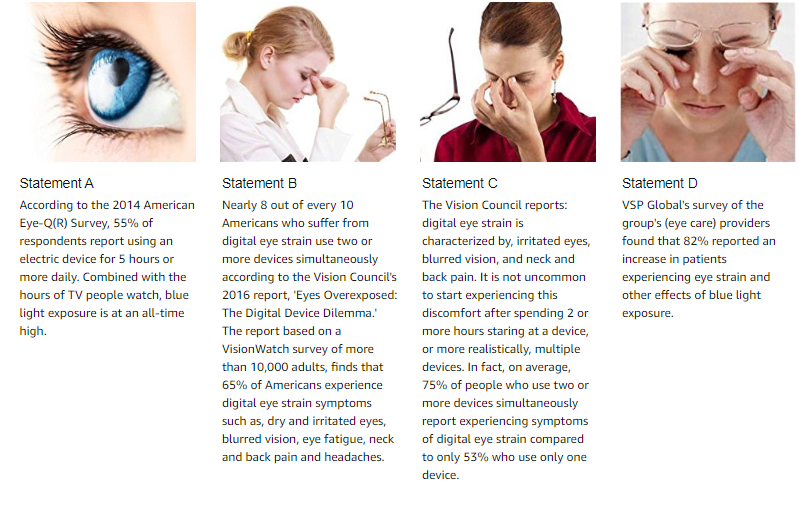 Information of Blue Light Protection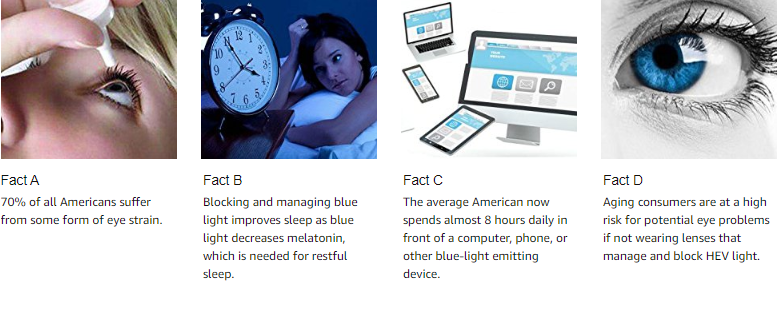 Eyekepper Improved Blue Light Blocking Lenses